Chill
0

September 13th, 2008 + 4:09 AM
·

Chill
About time i wrote one of these after joining the site more than 2 years ago....

And what better time, I'm just about to upload an LP we recorded about a month ago, almost all the songs were done live in my living room.... and yes it's an LP because it spans nearly 40min.

The bands' called Chill. 3 piece.... guitar/vocals, keys/bass and drums.

Favourites on this site? GOTTA be JBP and EducatedGuess.... I know that everyone here loves them but man they are good. Gotta give a special mention to Swordfish, TritonKeyboarder and JBP's collab 'Saviour My Heart' They made it what... one or two years ago now and i still love it. Anyway catch you guys later!
0

May 21st, 2011 + 6:05 AM
·

Chill
Or just keep it on the floor/on the couch. But don't worry! Since you know have the urge to constantly practice, you will be making plenty o' money with your skills to buy many guitar stands in no time!
3

April 30th, 2011 + 4:04 AM
·

Chill
A classic Wayne Shorter composition, played as very free flowing jazz.

Recorded in an empty house, more so as a rehearsal but fun none the less. Minimalist approach in performance and production.

Drums, electric guitar and piano (with simultaneous keyboard bass) all recorded live.

Enjoy.
4

September 7th, 2010 + 2:09 AM
·

Chill
Started recording a new album last month. Currently recorded about half the songs but taken a break as one of band members has gone overseas for a few weeks.

Album so far has been recorded on analog gear and most of the final mastering will be done when we get all the songs recorded. Anyway hope you enjoy this track.
4

January 11th, 2009 + 4:01 AM
·

Chill
Got a 8 track reel to reel recorder recently, mainly because I'm interested in recording the band using older, analog techniques rather than software.

Apart from the warmth and depth I hear in older analog recordings, I really like the reverb effect used in older recordings especially psychedelic era recordings.

I'm really just on the hunt to learn a bit about these older techniques from some of you folks here on bandamp because I know you guys got the knowledge about this sort of stuff. Did studios have the technology of digital reverbs back in the 70's? Obviously not software ones but outboard units? Is this how they added reverb to recordings?
I know from some friends that in the 60's, popular bands recorded in very large rooms that had an excellent sound and with the best microphones available to get the exact reverberations and character of the room onto tape. Clearly some recordings in 60's and 70's (especially vocals) had extra reverb added to them? was this simply using tape techniques such as tape delay and cabinet speaker effects?

I read about cabinet speaker reverb effect earlier today and it really got me interested in these vintage techniques.
4

September 13th, 2008 + 5:09 AM
·

Chill
Seventh song from our LP.

See '01 Joined Chemicals' for full description. Cheers
Alias:
Chill

Status: Offline
Threads:
28
Posts:
255
Songs:
20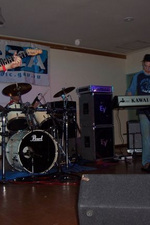 Joined: April 11th, 2005
Last login: April 12th, 2018
My Messengers
| | |
| --- | --- |
| AIM: | n/a |
| ICQ: | n/a |
| Skype: | n/a |